Veterinarians
Office Managers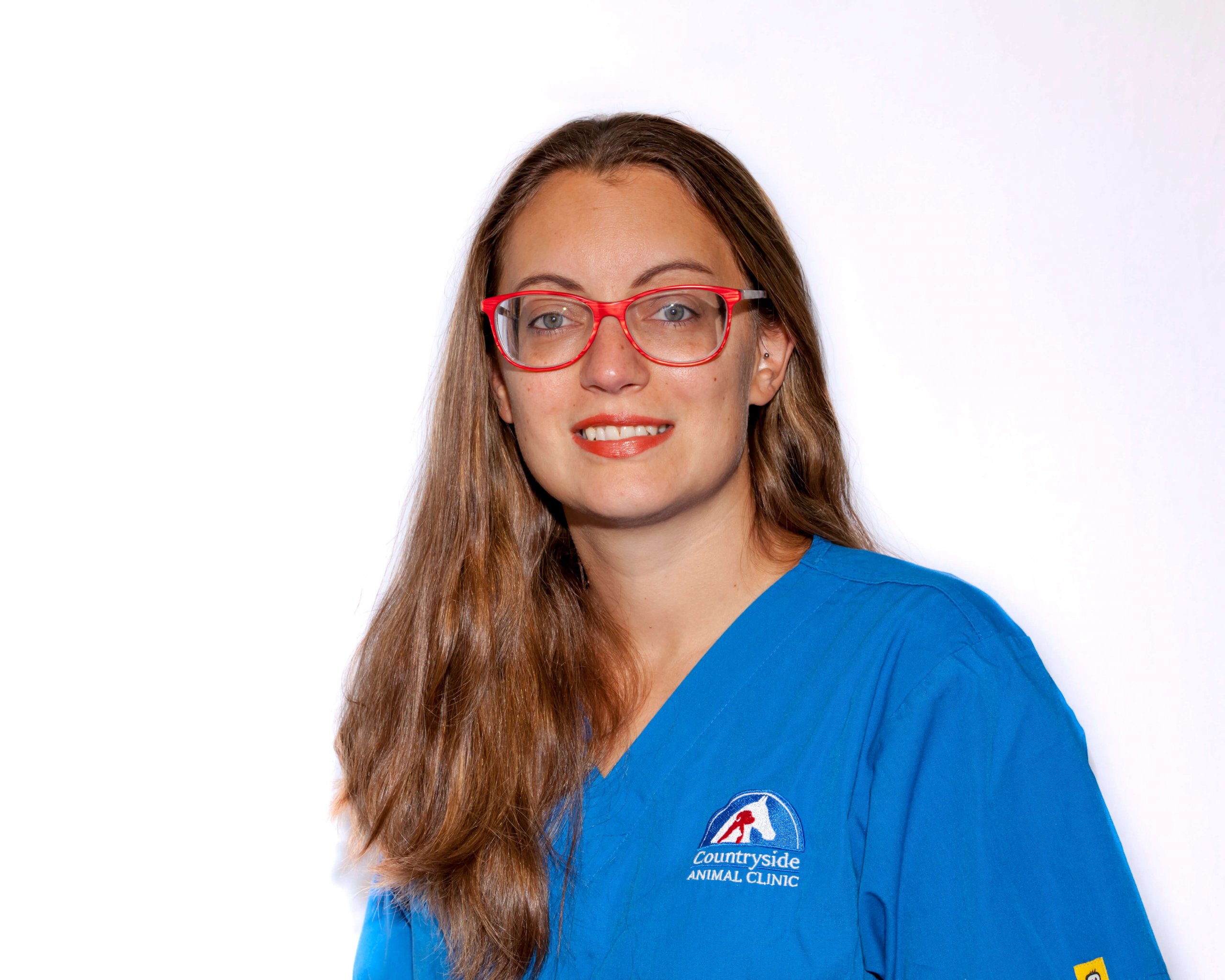 Ambry Giattino
Ambry was born and raised in Watkins Glen, New York. She moved to Florida in her early teens. The first animal hospital she worked in was in Coral Springs. Ambry began in the kennel and worked her way up to practice manager. She has had the pleasure of working in many specialty practices and emergency hospitals. Her husband is a firefighter for Marion county and their family includes their three children, six dogs,and two cats. Ambry has brought wonderful leadership and experience to our practice and we are thrilled to have her as a part of our team.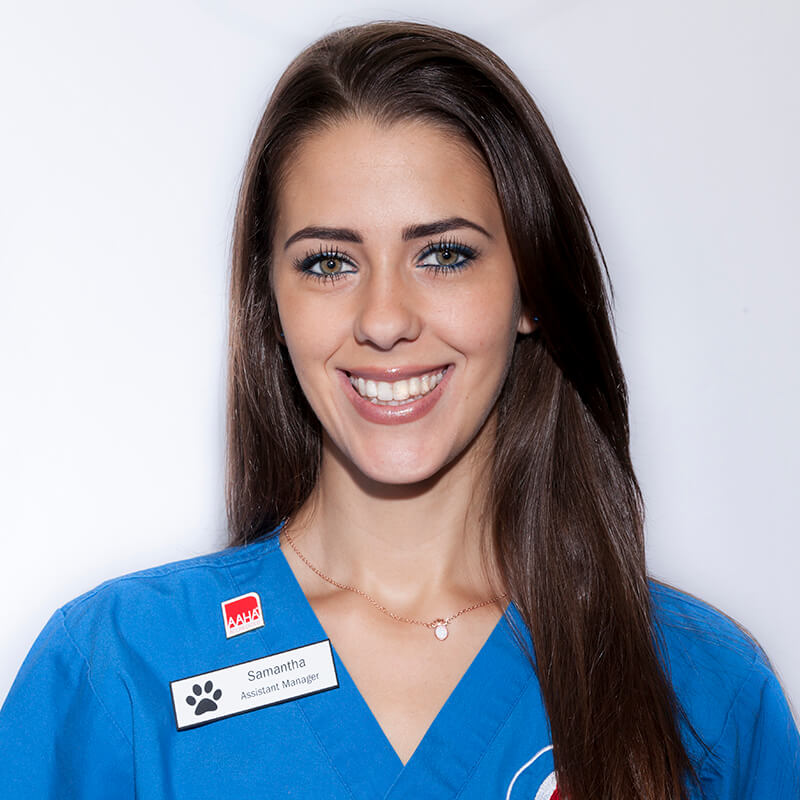 Samantha Irizarry
Samantha was born in North Miami, Florida. She has five sisters and one brother. Her father wanted to raise his family in the country, so they decided to move to Citrus County. She grew up on a farm and loved helping animals. She obtained her Associate's degree in Animal Science at College of Central Florida. Her passion for animals led her to the doors of Countryside Animal Clinic in Fall 2012. Starting as a kennel technician, Samantha took on any new responsibility with stride. She respected every position and humbly assisted any way she could.
Samantha had married her middle school sweetheart February 2015. Her and her husband Orlando, welcomed their first child, Nathan, at the end of that same year. Samantha enjoys spending time with her family and pets. She has an American bully named Grizzly, a cat named Chandler, and a special needs cockatiel named Grandpa. In her spare time, she prefers to be outdoors and enjoying the warm Florida weather.
After several years being on the Countryside team, Samantha feels at home. She feels rewarded by the wonderful staff, clients, and patients. Her aspirations are to continue to grow with her team and see where this journey takes her.
Floor Supervisors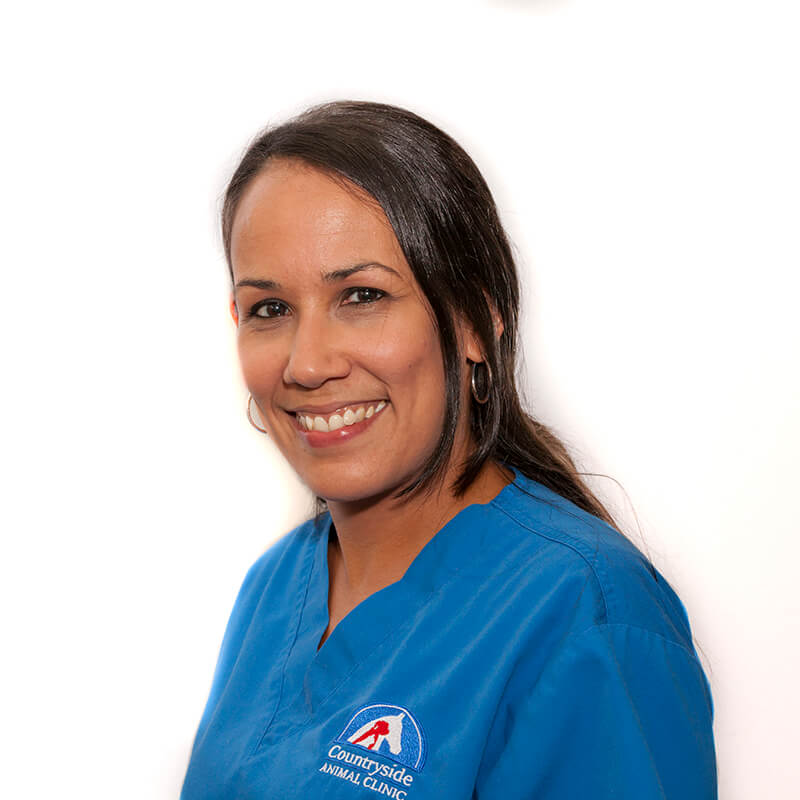 Cathy Rivera
Cathy was born in Brooklyn, New York and lived in Puerto Rico until the age of ten. Her family then moved to Orlando where she lived until the age of twenty-three. She came to Citrus County and decided to settle down.
Cathy joined the Countryside team October 10, 2011, and brings excellent customer service, veterinary medicine knowledge and technical skills to the clinic.
Cathy and her husband have three children, Elias, Scarlett, and Sawyer. Their four-legged family members include two cats named Felix and Sexy, a rabbit named Peter, and two dogs, Shiloh, and Paisley.
Cathy's hobbies include scuba diving, fishing, boating, and reading. Her fondest memory while working in the animal care field was when a client rescued three baby racoons to be fostered by the local wildlife rehabilitators.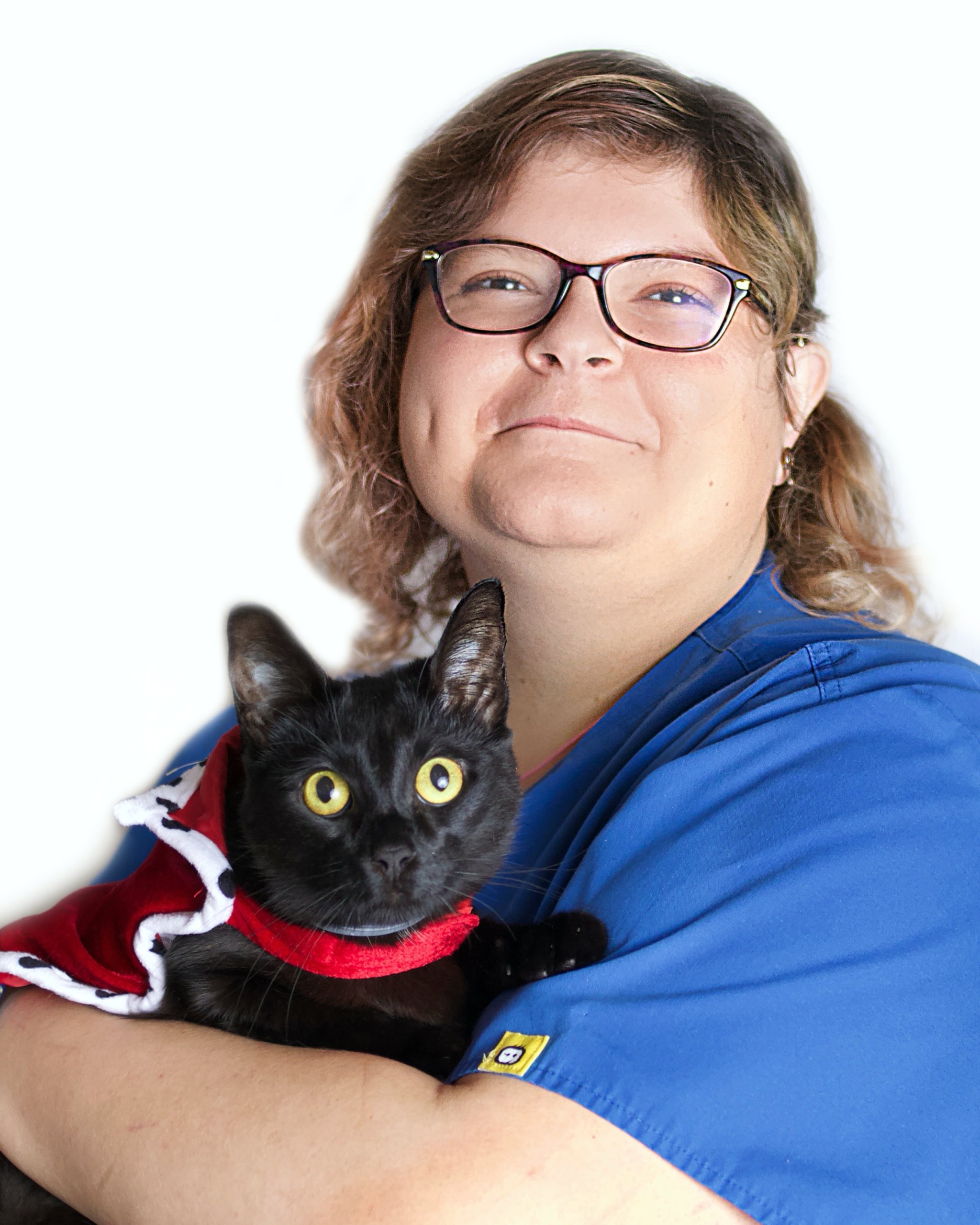 Marie Scott
Marie Scott has been part of the Countryside team for four years. She has a vast knowledge in veterinary medicine and excellent technical skills. She is also a floor supervisor and takes pride in providing excellent customer service. Marie was born and raised in Citrus County. She lives with her mother, father, and sister. She also lives with Gabby the lab, Yoko the shorkie, Noodles the daschund, Yoyo the tabby, Meow Meow and Shadow the calicos, Chester the domestic long hair, and Smokie and Miss B (foster fails) the black kitties.
Marie's hobbies consist of napping, painting, drawing, and enjoying adventures at Disney. Her special interests are dealing with feline patients, especially those with catitudes. She has embraced Countryside's Fear free philosophy and makes sure each patient that she encounters has a stress free experience.
Marie attended the Academy of Environment Science and has future goals of either becoming a certified veterinary technician or a veterinarian. She aspires to specialize in veterinary hospice care.
Chief Financial Officer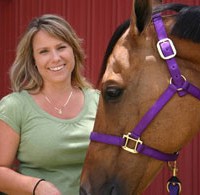 Robin Stokes
Robin was born in St. Petersburg, Florida, but grew up in Citrus County. She graduated from the University of Florida in 1998, with a Bachelors's degree in Accounting. She joined the Countryside Animal Clinic team in 2004, bringing an invaluable wealth of financial knowledge and expertise to the clinic.
She is married to Stephen, and they have two children, Lauren and Austin. Their family pets include one pit bull named Chance and four horses, Wally, Zippy, BB, and J Jay.
Robin's hobbies are horseback riding, showing horses, and boating.
Client Care Specialists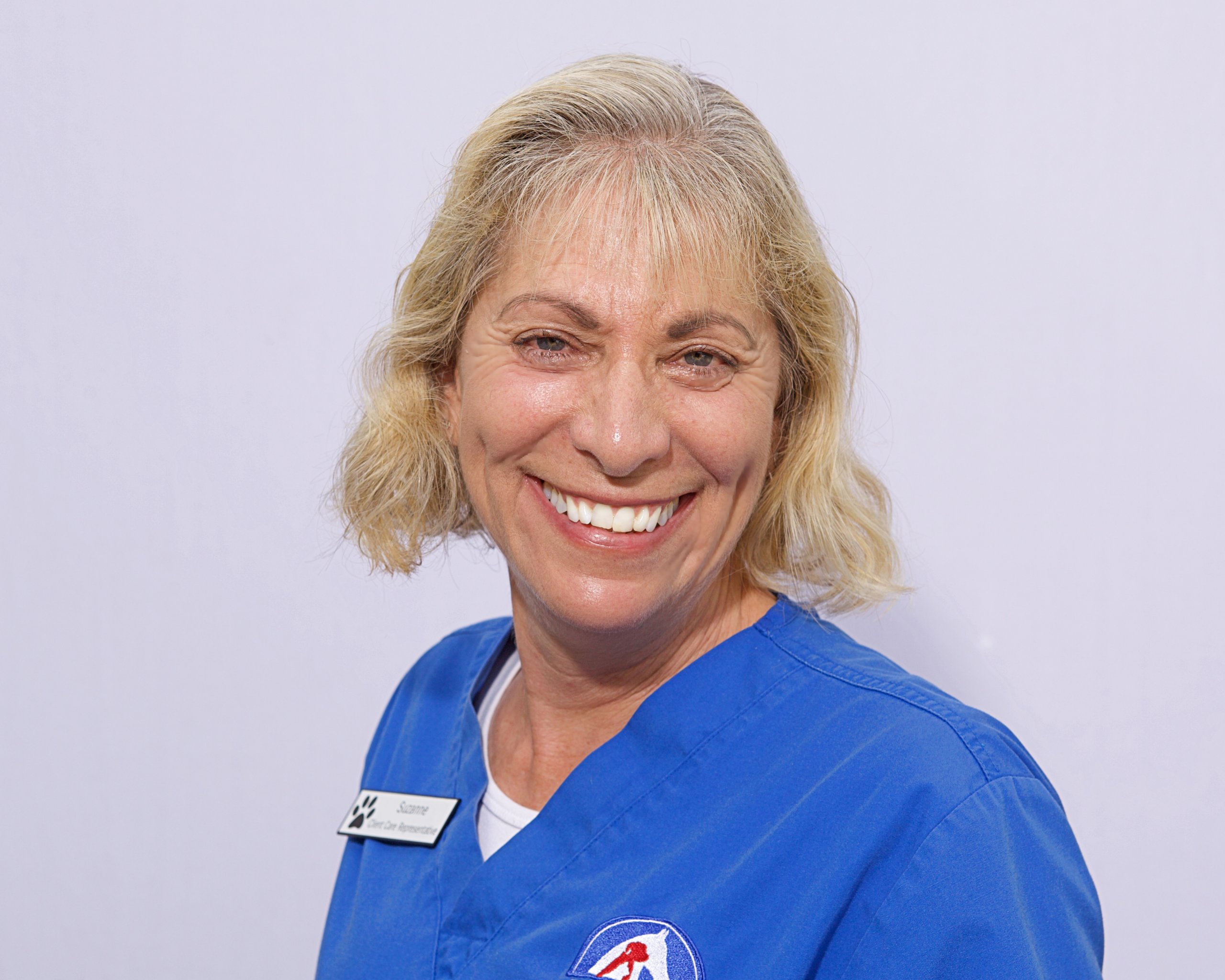 Suzanne Tobin
Suzanne is a Client Care Representative at Countryside Animal Clinic. She joined our team with experience in equine massage therapy and a passion for large animal. Spending most of her career working in large animal medicine, Suzanne wanted to venture into a mixed animal practice to expand her knowledge. Suzanne was thrilled to learn about the different species Countryside treats. Although, learning about small animal medicine, Suzanne hasn't abandoned her talents for massage therapy. She attended the University of South Florida in Tampa and eventually settled in Citrus County. It brings her joy to go horseback riding, play water sports, attend theme parks/live theater, traveling, and nurturing her garden. She loves caring for her fur family. She has two horses, one donkey, two cats, and one dog. Her future goals are to compete in horse shows and finish DIY projects around her farm.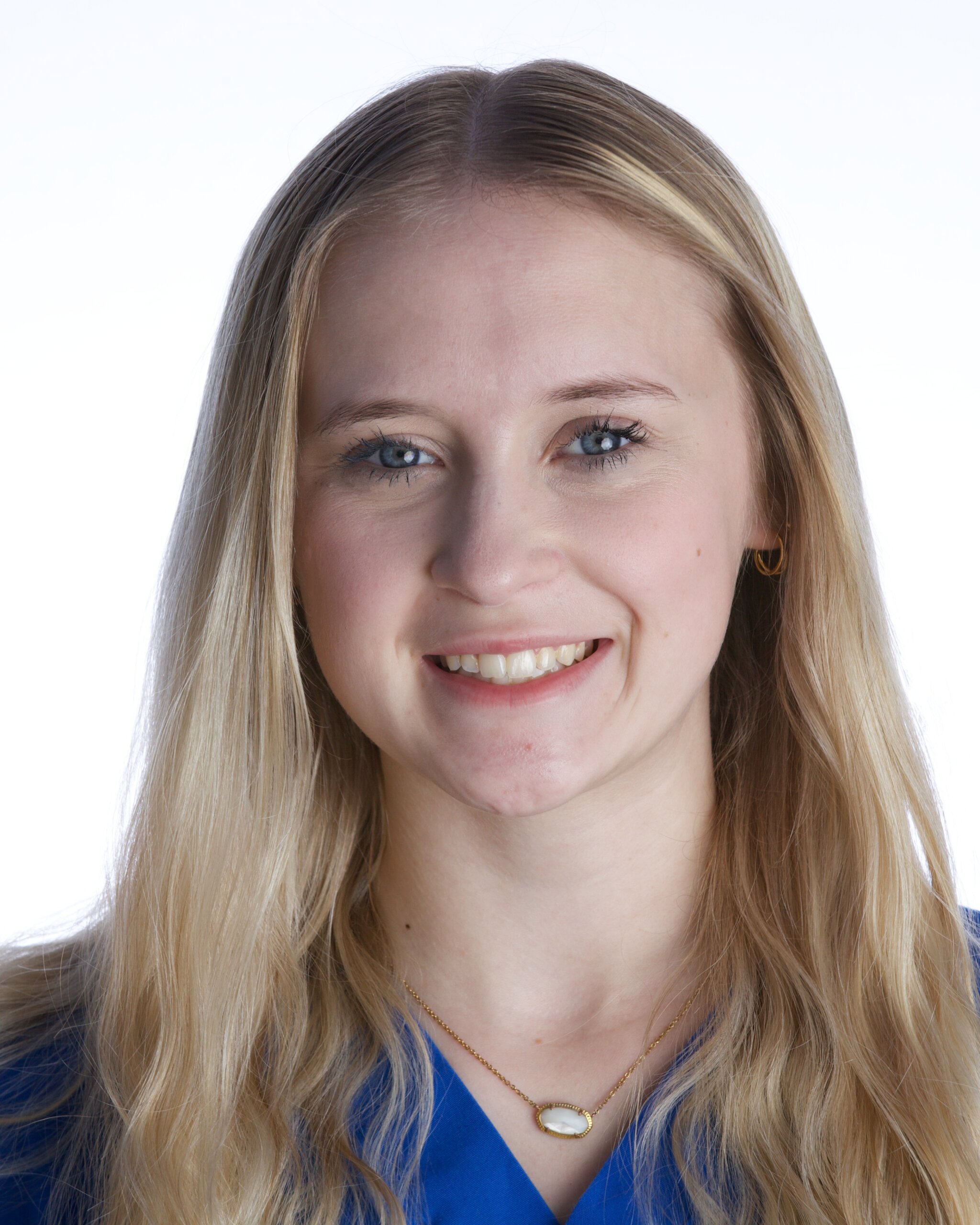 Alexia McClellan
Lexi joined the CAC team with a positive outlook. She was hired as a client care representative and has exceeded those expectations. Since then, she is now learning skills as a veterinary technician. She graduated from Lecanto High School and once she finishes her certificate in Real Estate, she will continue education in becoming a certified veterinary technician. Her hobbies include archery, painting, barrel racing, fishing, hunting, and spending time with her boyfriend and family. Her family includes her mom-Courtney, sister-Taylor, boyfriend-Shayne, gramma, and Aunt Dede. Long term goals are to become a mixed animal veterinarian. She has many aspirations and hopes to have a big happy, healthy family surrounded by land and pets. She takes things day by day and is thankful for all she has and plans to have.
Certified Veterinary Technicians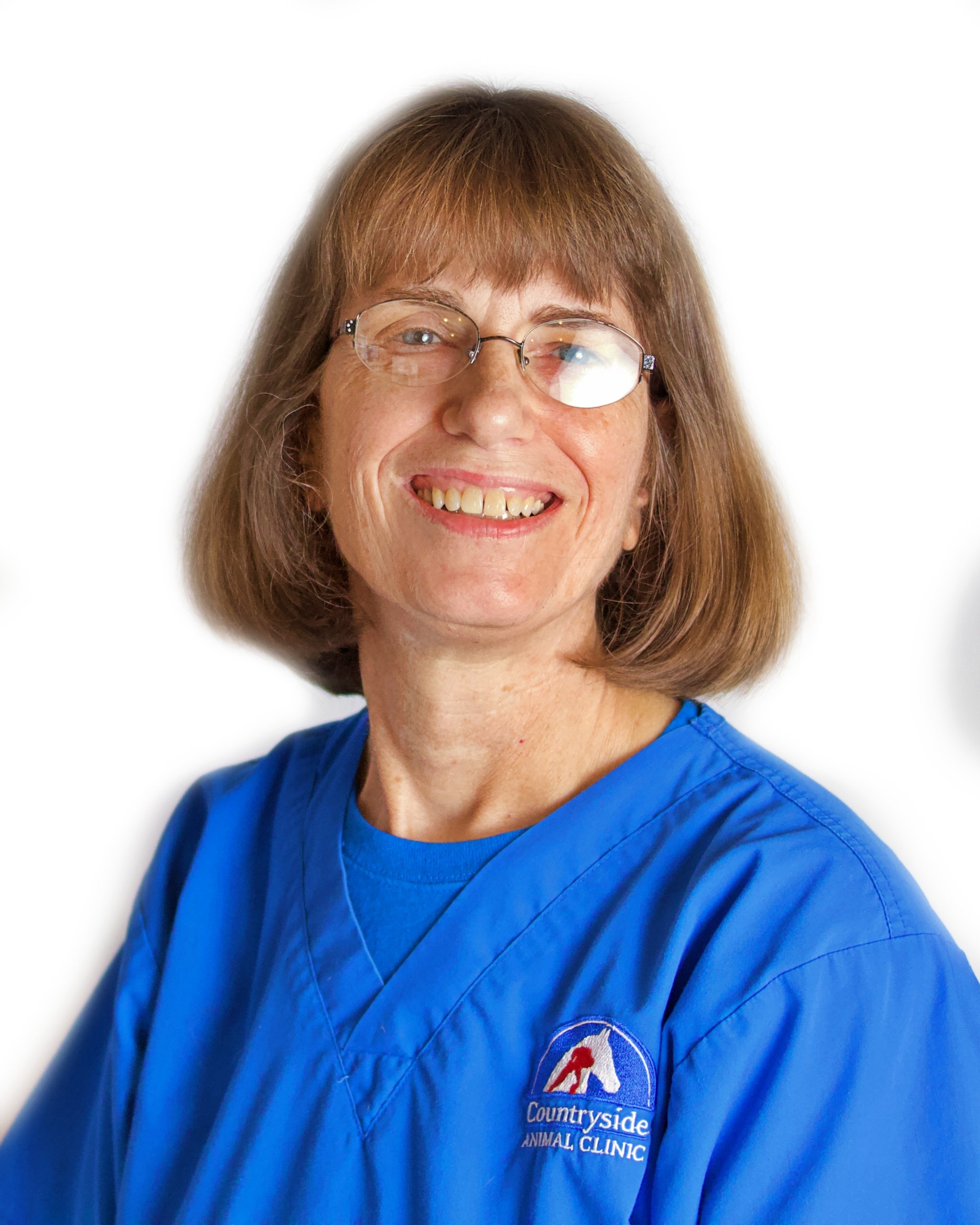 Vicky Stephens, CVT
Vicky was one of the first technicians hired on at Countryside in 1985 in the small shopping plaza across the street. After 6 months of employment, Vicky obtained her veterinary technician credentials and became licensed. Vicky is one of Countryside's main surgery technicians.
Vicky and her husband live in Ocala on a small cattle farm. Vicky is a huge Florida State fan and enjoys watching them play. Vicky has 3 cats, Junior, Sylvester, and Shelly.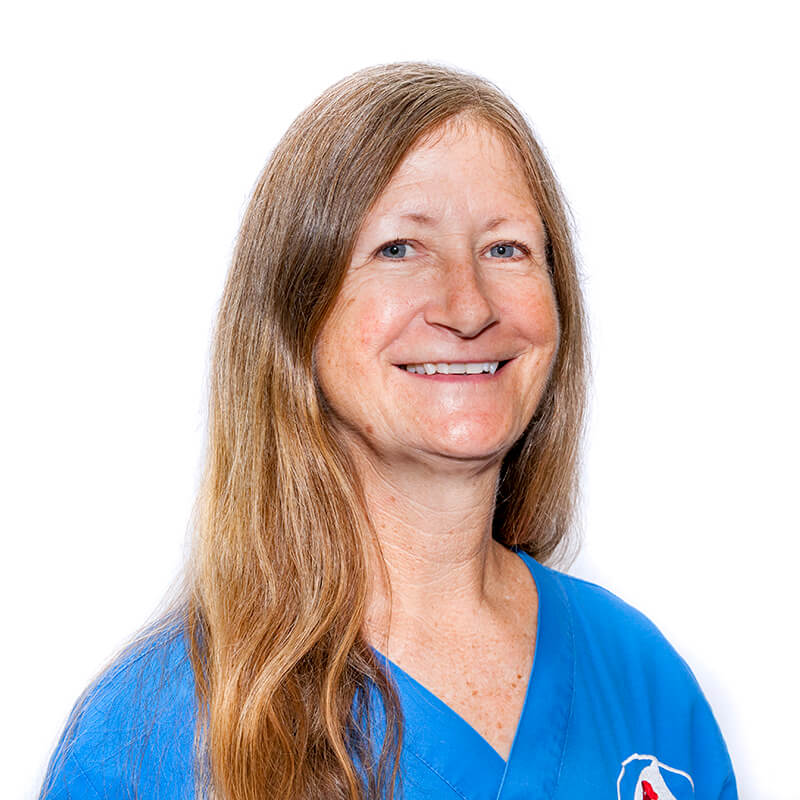 Jamie White, CVT
Jamie lived in upstate New York as a child on a horse and poultry farm. She moved to Brooksville, FL in the 1970's with her family and met her husband Pete in high school.
Jamie received her AA degree and continued her education at St. Petersburg Community College, graduating as a Certified Veterinary Technician. She joined the Countryside team in 2006, and brings a wealth of knowledge and skill to the clinic.
Jamie and Pete have one daughter Leah. Their four-legged family members include 4 horses, 1 cat named Oreo, 2 Anatolian Shepherds (siblings that guard the goats), 20 registered pygmy goats, and two Chihuahuas!  Jamie shows her goats and has won many awards, the latest award earned with a goat named Heavenly Blessings Moonlit Summer, who achieved permanent Grand Champion status.  In the goat world, this is the equivalent to winning the gold in the Olympics!
Her hobbies include quilting, gardening, and basket weaving.
Jamie's favorite clinic memories were the clinic scavenger hunt, and when a choked horse sneezed all over the Doctor and then recovered nicely.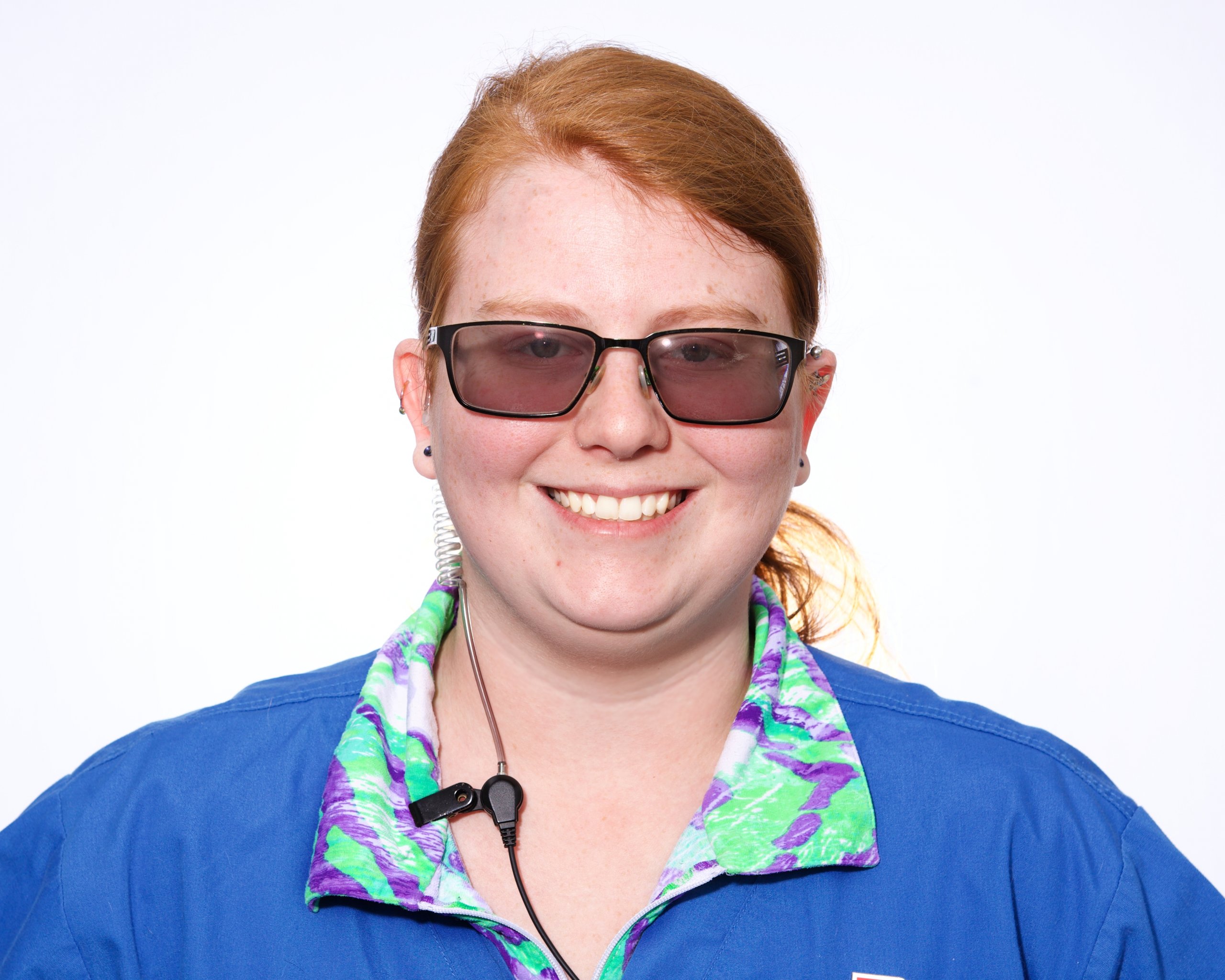 Amy Burnett, CVT
Amy went to the college of Central Florida where she earned her degree in veterinary science. She then went on to pursue her education and earned her certificate as a Certified Veterinary Technician December 2021. Amy initially began with the CAC team as a volunteer for schooling purposes. Not long after volunteering, Amy became an official team member. Her hobbies include reading, video gaming, and listening to music. Her family includes her mom, two brothers, one sister, and one niece and nephew. She enjoys spending time with her pets that include her ball python-Maru, map turtle-Chumlei, dog- Piper Reese, and cat- Gwendolyn Stacey. Her goals are to specialize in exotics and further her knowledge in exotic medicine.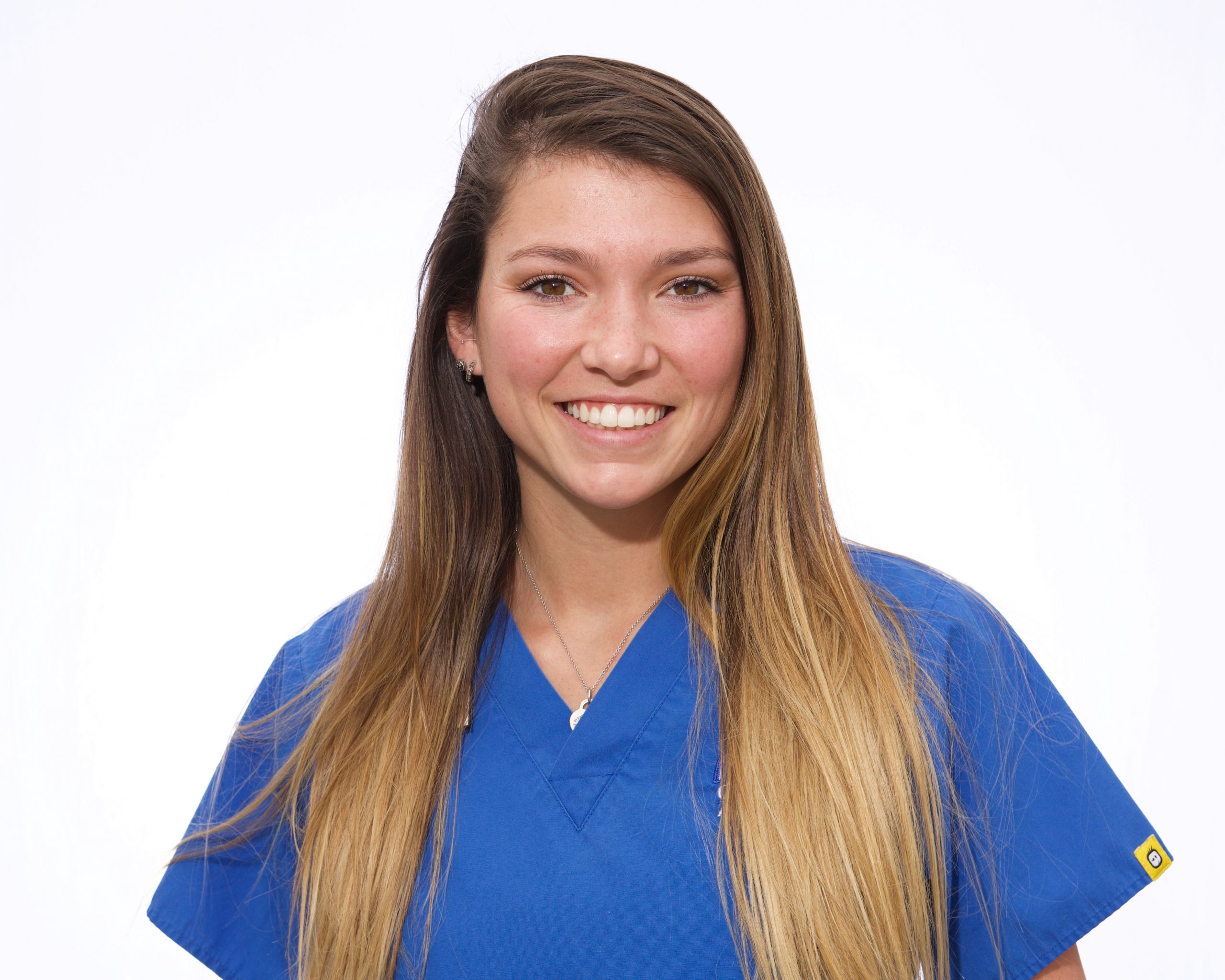 Cazi Hockenbury, CVT
Cazi joined Countryside with an ambitious attitude. She is like a sponge soaking up any information she can learn to better assist patients. She graduated Lecanto Highschool before Cazi joined Countryside with an ambitious attitude. She is like a sponge soaking up any information she can learn to better assist patients. She graduated Lecanto Highschool before obtaining her prerequisites at College of Central Florida. She graduated the Certified Veterinary Technician program at St. Pete College in December 2019. We are very proud of her as she earned her Certified Veterinary Technician License in 2021. Her ultimate dreams are to own her own business while running a farm and rehab/sanctuary that benefits all animals. Cazi has three pets; a Pitbull named Hunter, two kitties named Maui and Keanu, and special needs squirrel, Worm. She enjoys listening to music, traveling, riding, mudding, and being on the water. Her special interest include rehab, surgery, exotic, zoo medicine, and anything that promotes helping/healing animals. Her overall goal is to learn and absorb as much as she can in this field.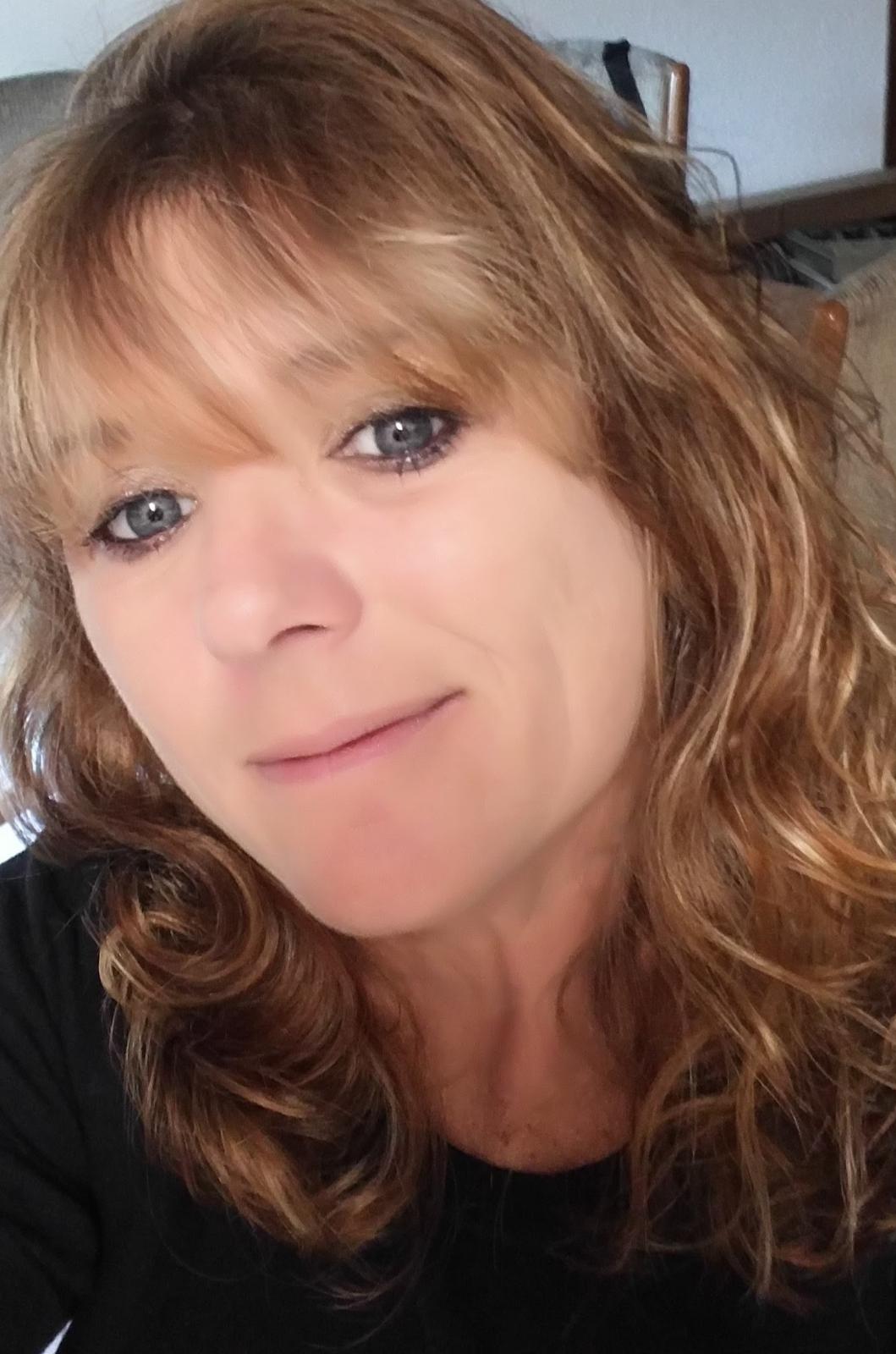 Jamie Kiernan, CVT
Jamie rejoined the CAC team after years of working specifically with an equine practice. She is a Certified Veterinary Technician and earned her BAS in 2008. She has a husband named John and a son named Tyler. They have two dogs named Ruger and Stitch and a horse named Allie. Jamie enjoys horseback riding, camping, and fishing.
Veterinary Technicians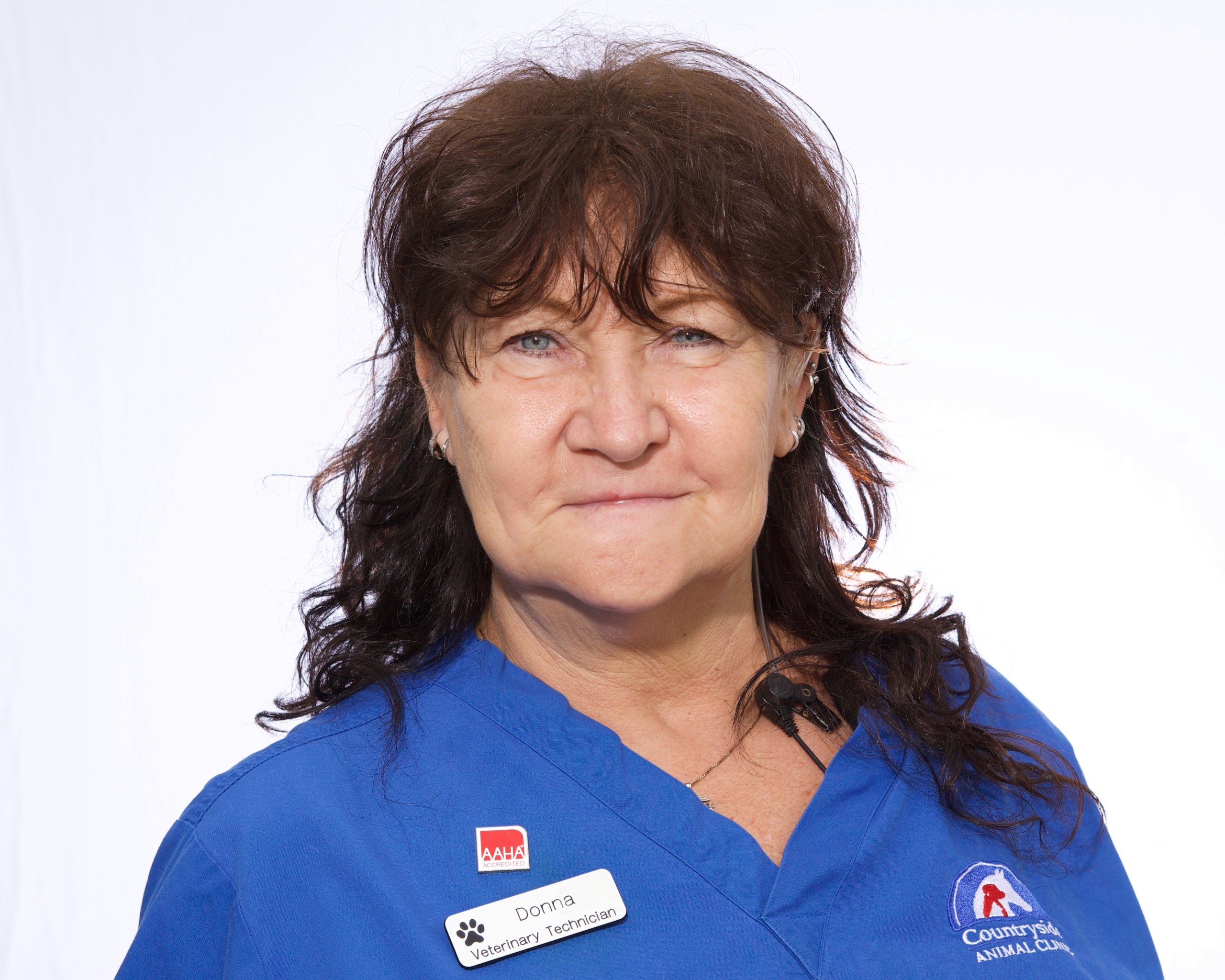 Donna Posa
Donna is one of the few employees who started working for Countryside when it first began. She was hired on in 1991. Donna is a very passionate technician who has connected and maintained many long term relationships with our clients.
Donna and her husband live on a 20-acre farm in Citrus County with their boxer Wrangler, Cane Corso Twilight, and 4 feline friends. Donna has a daughter who is a medical assistant and a son who has been an active Marine since 2007.  
Donna loves to take vacations on the beach and her future goals are to continue working at Countryside until she retires.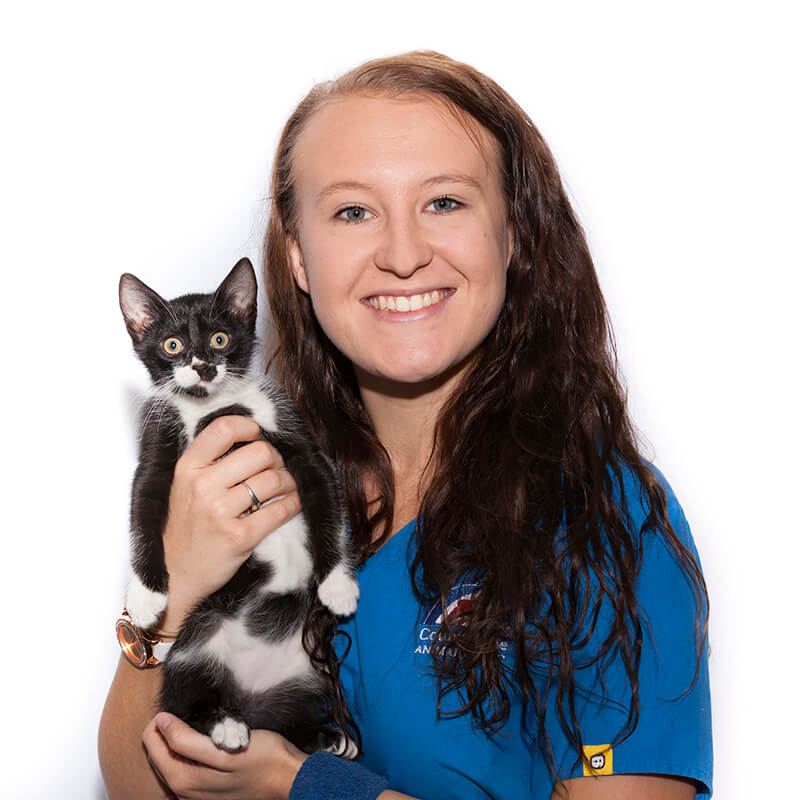 Kayla Hitchcock
Kayla graduated from Crystal River Highschool in 2013. She is passionate about animals and patient care. With knowledge for exotics and small animals, Kayla is willing to help anywhere she can. She is currently focusing on her career and learning skills while on the job. She likes to go shopping, fishing, playing PS4, and listening to music. She also loves spending time with her little nieces. Besides having a love for animals, Kayla enjoys going to historical sites and traveling. When Kayla isn't tending to clinic animals, she is caring for her pets at home. She has two dogs, one pig, and one cat. Her future goals are to travel more, become a certified veterinary technician, and move up in the workplace.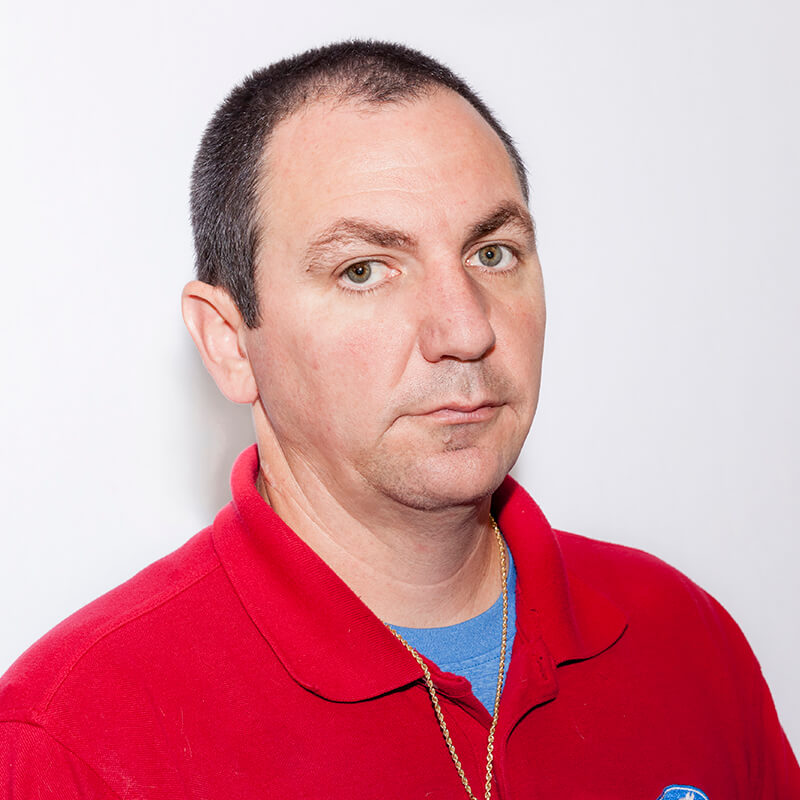 Mark Ready
Mark was born in Brevard County and attended Valencia Community College for two years. Tracy is his longtime girlfriend, who is now a teacher at Citrus Springs Middle School. Their four-legged family members are 2 labs, Chloe and Benny, and Jeremiah an American Pitt Bull Terrier.
He has lived in Citrus County since 2006, and enjoys sporting events, AKC hunt tests, basketball, and football. When not working at Countryside, Mark stays busy working as a referee for high school sports events.
His favorite memories are working with exotics in the past, from big cats to monkeys, but mainly enjoys helping animals and meeting their owners.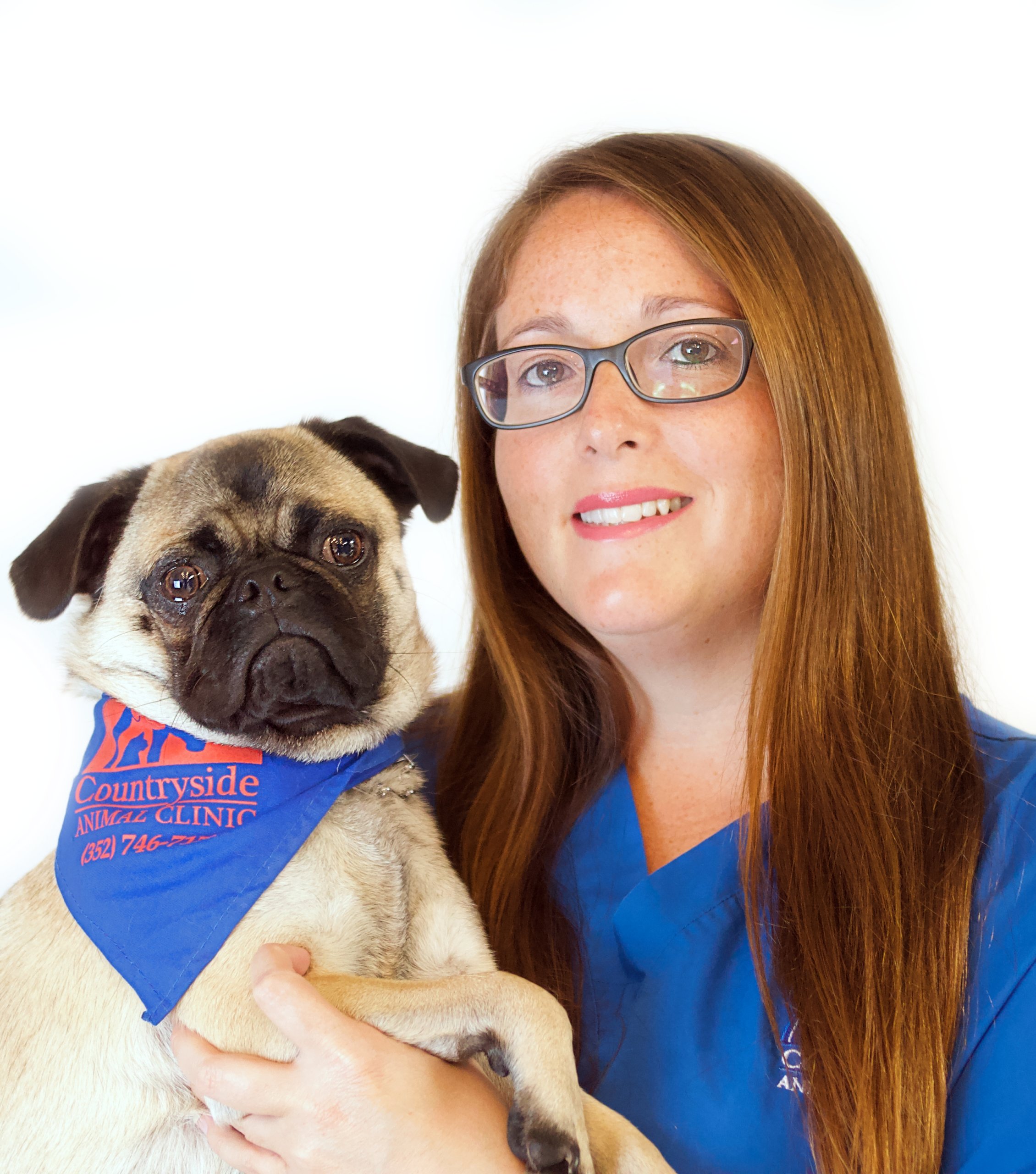 Melanie LaRue
Melanie joined Countryside in 2016. She has seventeen years of experience in the veterinary field and enjoys everything she does. She has two pugs named Turbo (Turbo Spumoni) and Bandit (Bandito Sofrito). Melanie has diverse skills that allows her to work anywhere in the clinic atmosphere. When she is not wearing multiple hats at the clinic, she is enjoying the outdoors. She loves being out on her boat and scuba diving.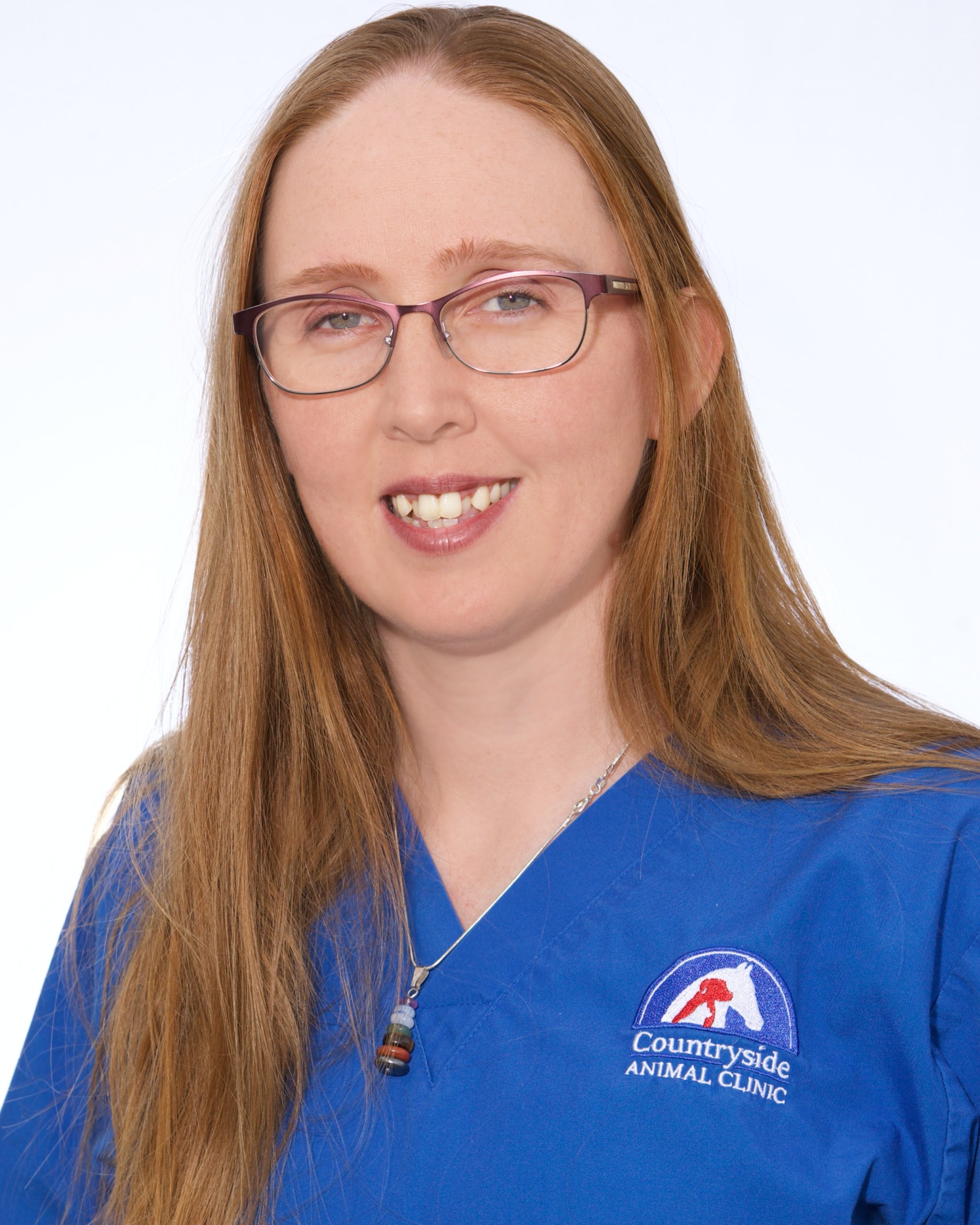 Morgan Yerke
Morgan was born in Michigan and traveled to the United States with her parents and sisters for most of her childhood. She resides in Citrus Country with her fiancé and two dogs, Mipha and Basch. Morgan attended Central Florida and obtained an Associates in Art and also attended the Florida International Teaching Zoo.
Morgan has been part of the Countryside team since 2016. She has been in the profession for 14 years. She is a very diverse technician and wears many hats. She is an excellent dental technician and currently is the clinic's inventory manager.
Her special interests are clay work and digital media. Morgan's future goals are to continue to grow with the profession and possibly obtain her certification as a technician.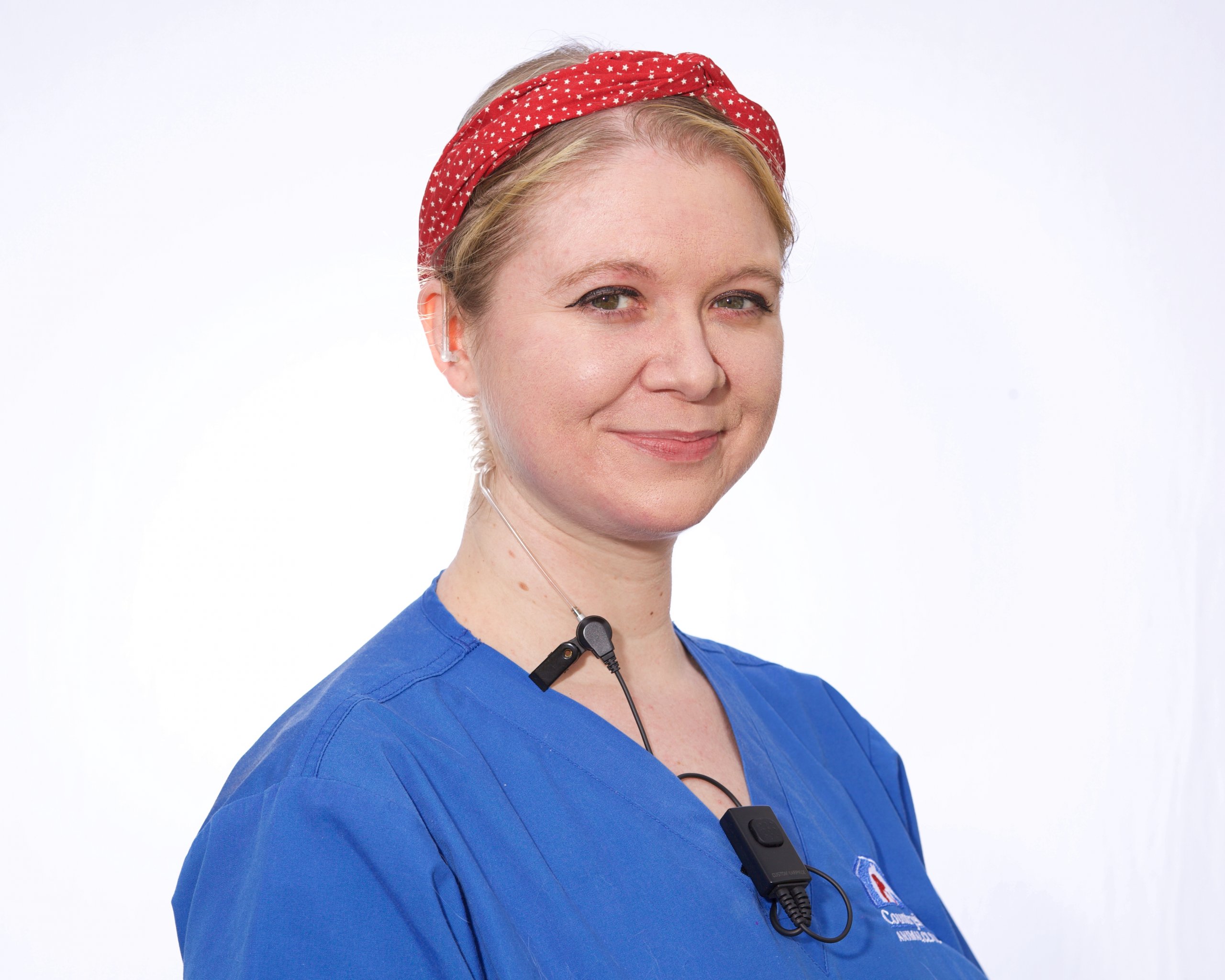 Kelly Hideriotis
Kelly joined the Countryside team in 2018 with an extensive background in wildlife rehab. She attended Keene State College where she earned her B.S degree in biology. She was born and raised in Massachusetts. Kelly continued working with animals throughout her career. She moved to Florida in 2012 where she decided to settle down with her two rescue kitties. When she's not spending time with her fur-children, Kelly is either drawing or hiking. Her goals are to help save animals one step at a time.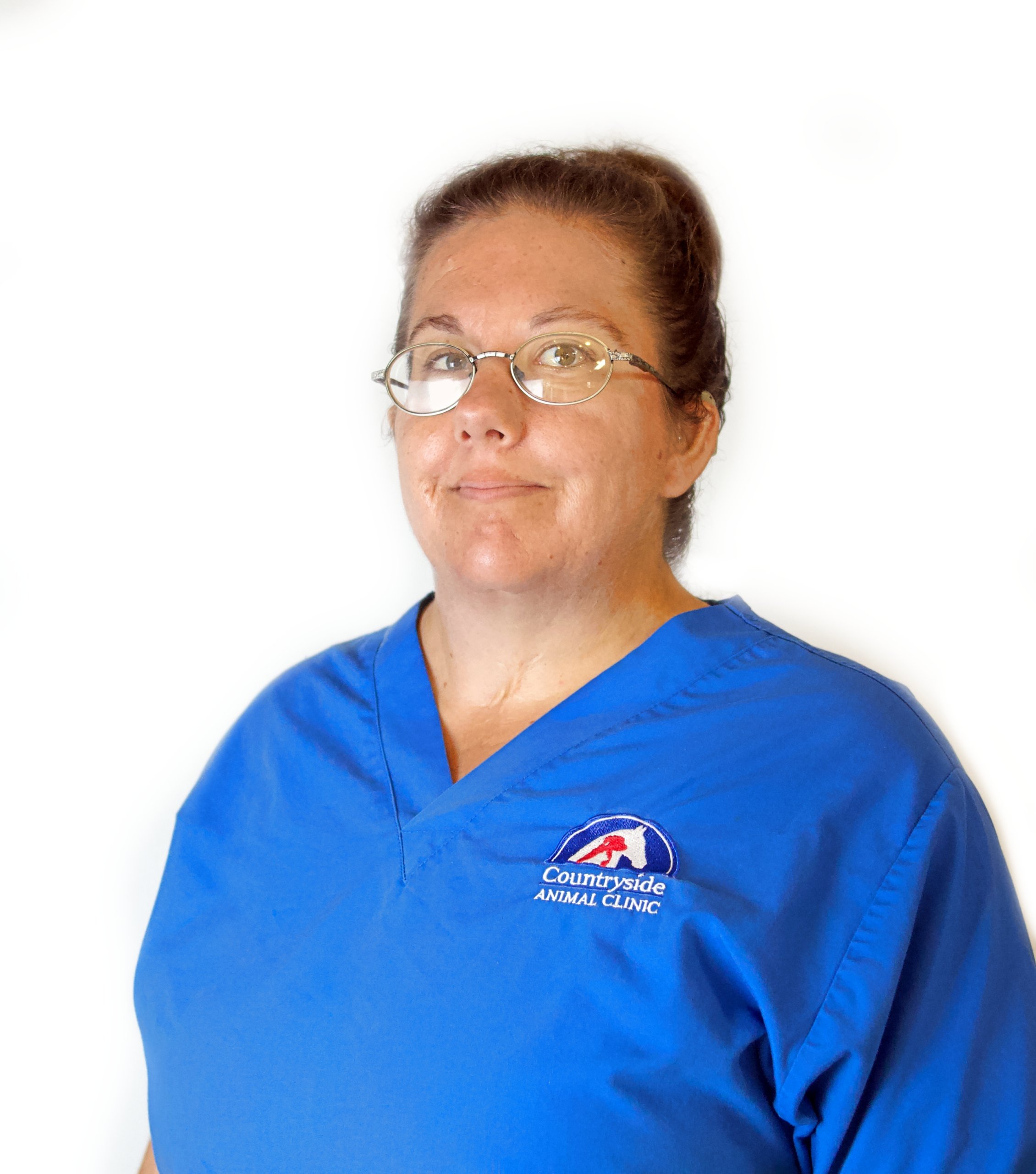 Sara Loebl
Sara initially joined the Countryside team and took on the Animal Care department by storm. Although she did an exceptional job in that ward, her passion is for large animals. She has experience showing horses and enjoys working outdoors with them. After some time, Sara learned the ropes of the large animal truck. Her special interests are working outside on her property and barn. When she's not working, she enjoys spending time with her horses. Sara attended Valencia and St. Petersburg Community College. Her future goals are to finish building her home and continue to grow as a veterinary technician. Her favorite statement is "you never stop learning". We are happy to have Sara on our team and look forward to watching her grow.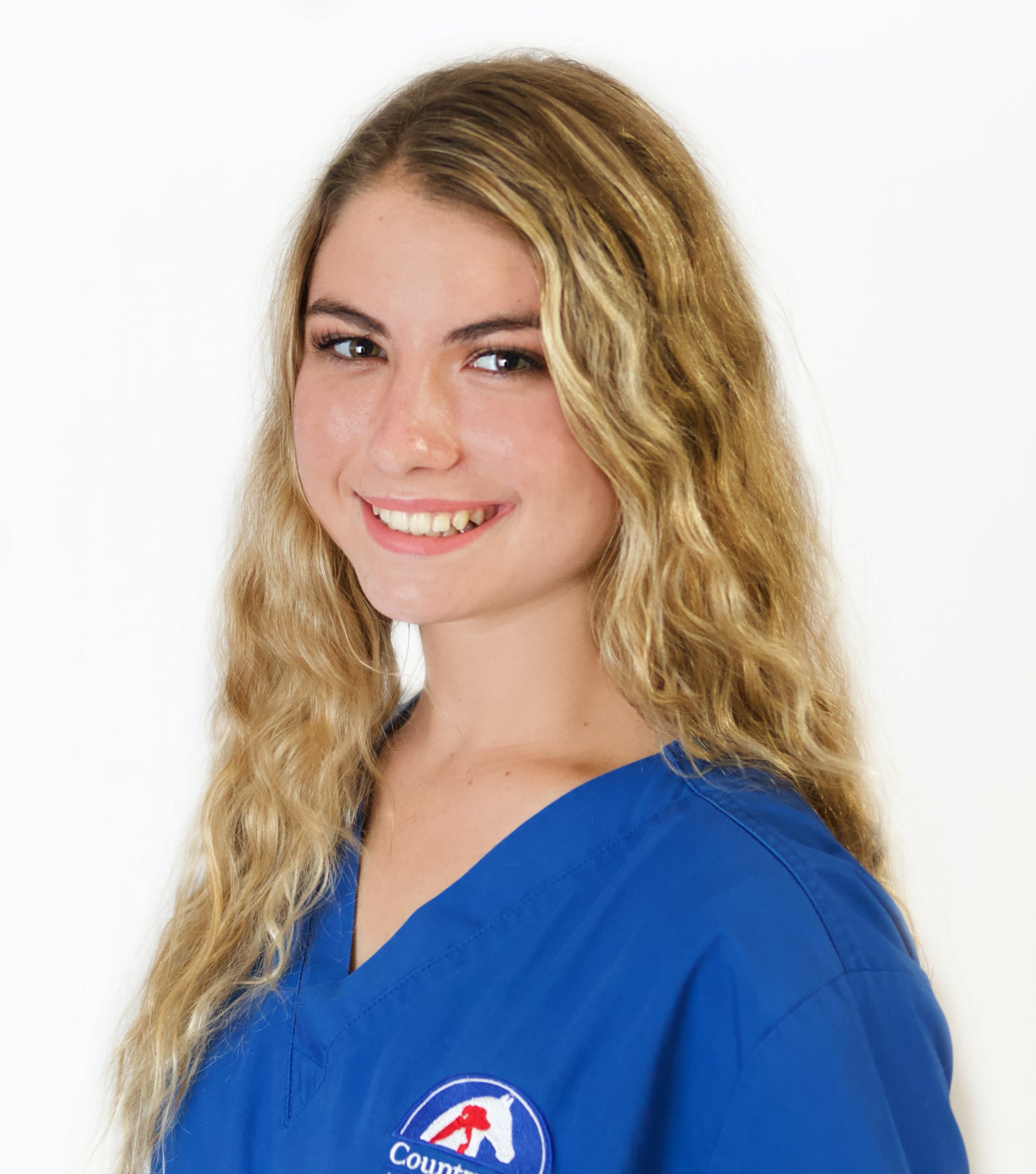 Lauren Stokes
Lauren began her journey at Countryside June 2019. She is currently attending the College of Central Florida and Lecanto High School. She enjoys raising steers for the Citrus County Fair and showing them across the state at local prospect shows. The livestock consists of swine, cattle, and equine. When she is not showing livestock, she enjoys showing her personal horse at County, District, State, and Regional levels of 4-H competitions. Lauren is ambitious and will accomplish anything she sets her mind to. In her spare time, Lauren is involved in Varsity Cheerleading, Varsity Girls Flag Football, National Honor Society, FFA, 4-H, Equestrian Rider, and livestock entrepreneur. Her ultimate dream is to raise her own large cattle corporation and selling prospect calves across the state.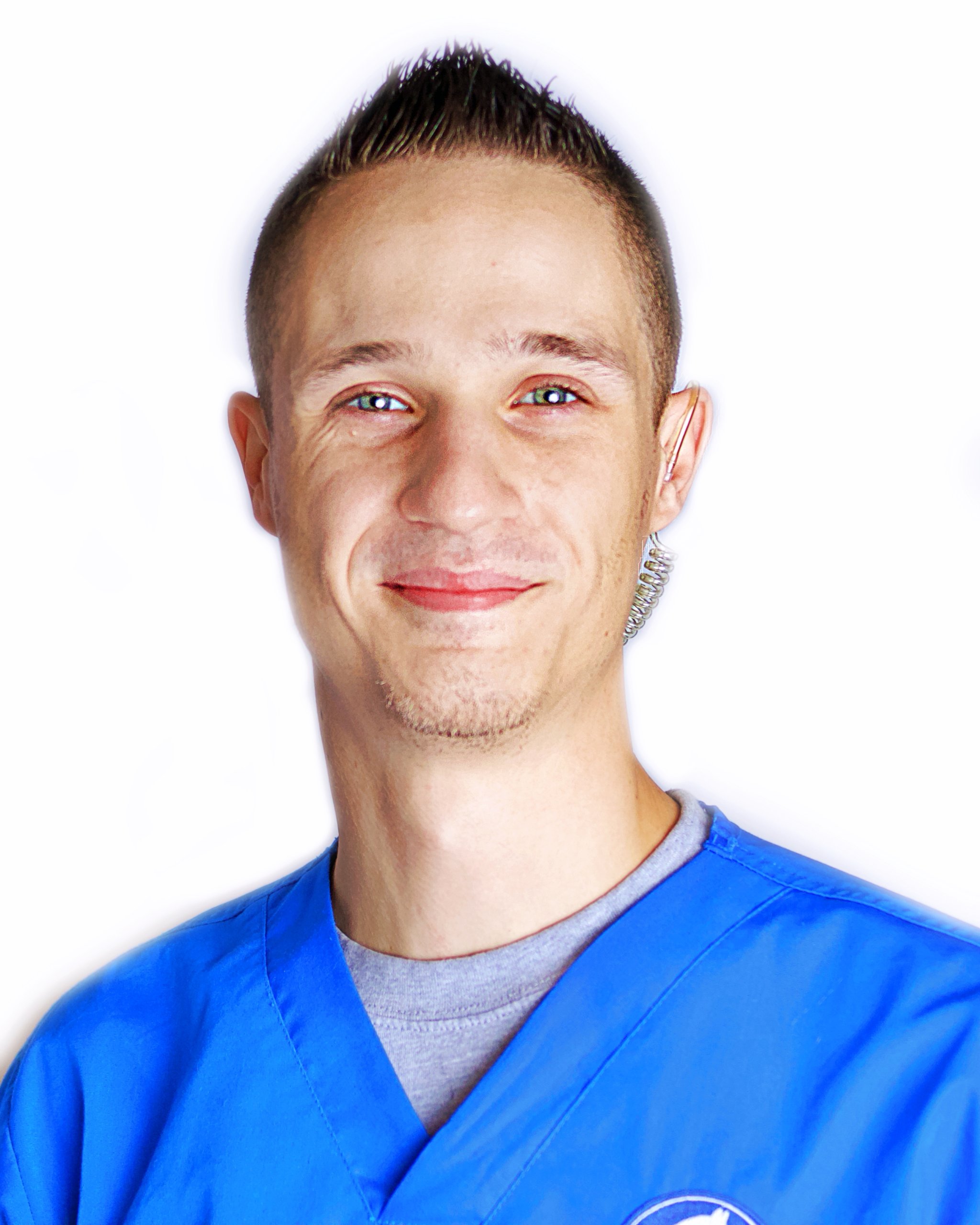 Drake Duncan
Drake began his journey at Countryside wanting to further his knowledge about the veterinary profession. He earned his associate degree in computer science from College of Central Florida in 2018. He comes from a large family with nine siblings. His hobbies include spending time with his pets by training them and keeping them active. When he's not working with animals, Drake enjoys being a musician and likes to focus on playing guitar.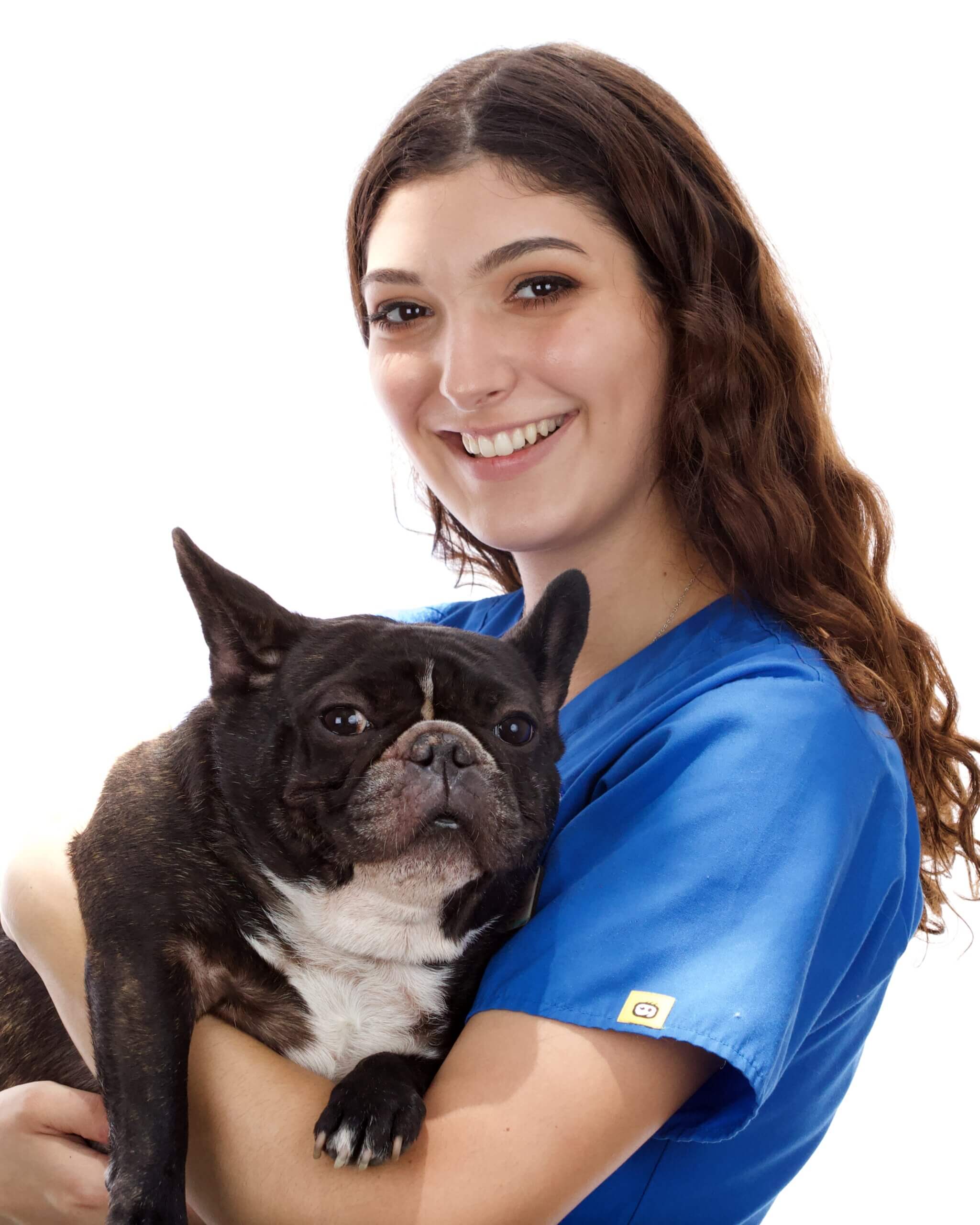 Faith Klass
Faith spent three years at Newtown Highschool. She then moved to Florida from Connecticut where she graduated from Crystal River High School. She is currently taking classes at College of Central Florida. Her hobbies include learning new things, watching movies, tv shows, riding horses, reading, and drawing. Her goals are to further her education at St. Petersburg college and become a certified veterinary technician. She has two horses-Denali and Hershey, one dog- Zoey, and two cats- Cavallo and Sparkles. She lives with her family, mother, father and brother.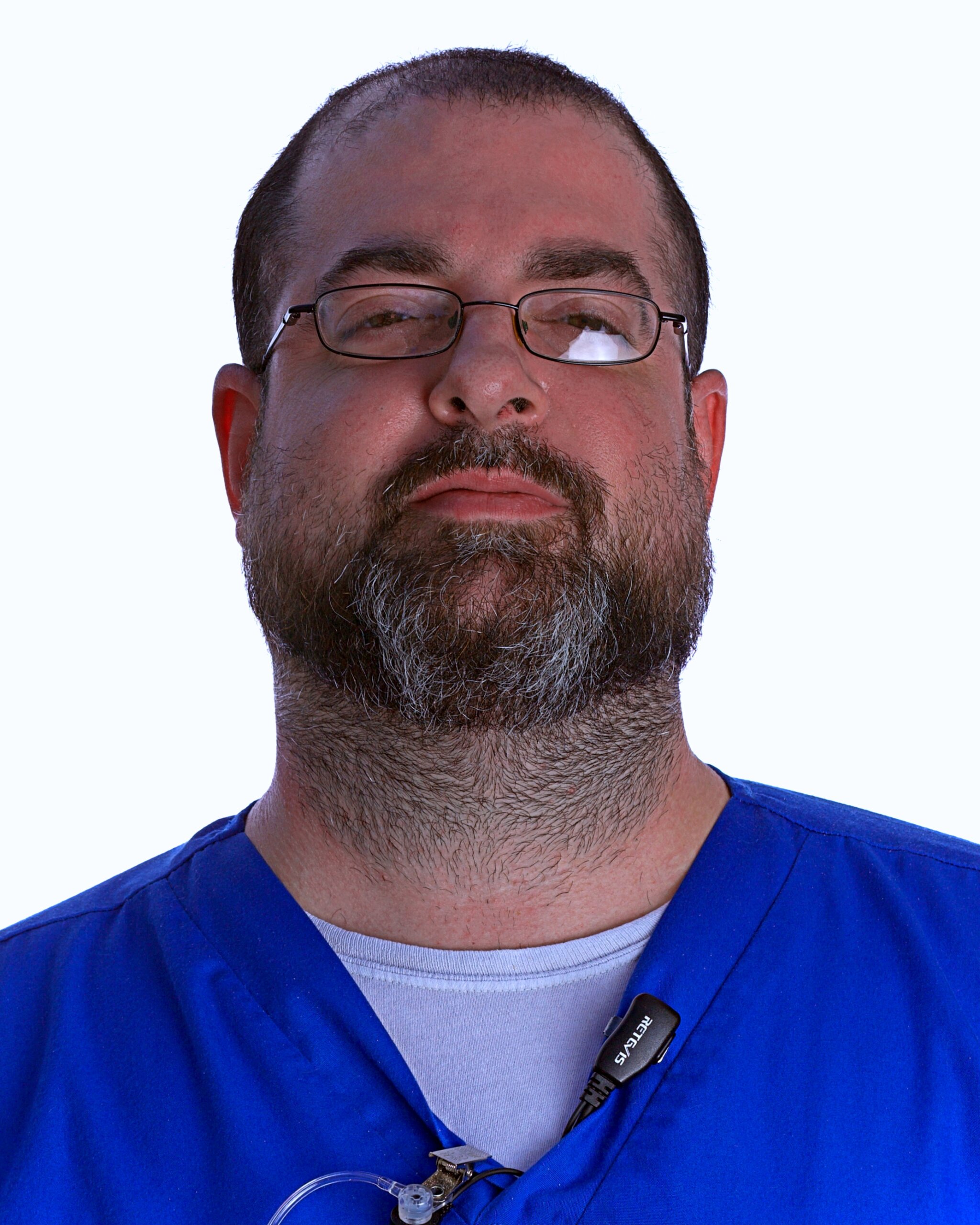 Jesse Chiella
Jesse joined the Countryside team with 18 years of veterinary experience. Jesse graduated from Hudson High School in 1999. He went to the University of Florida for five years for Animal Science. He is considering going back to finish the degree. He enjoys watching sports such as NY Mets and NY Giants and UFC. He also enjoys cooking in general. Jesse likes to spend quality time with his two boys-Noah and Leo and their pets. Jesse and his boys have fun playing sports and going to fish/reptile stores. His father lives in Myrtle beach N.C. Jesse's goals are to continue to grow in the veterinary field and learn new aspects of the veterinary medicine.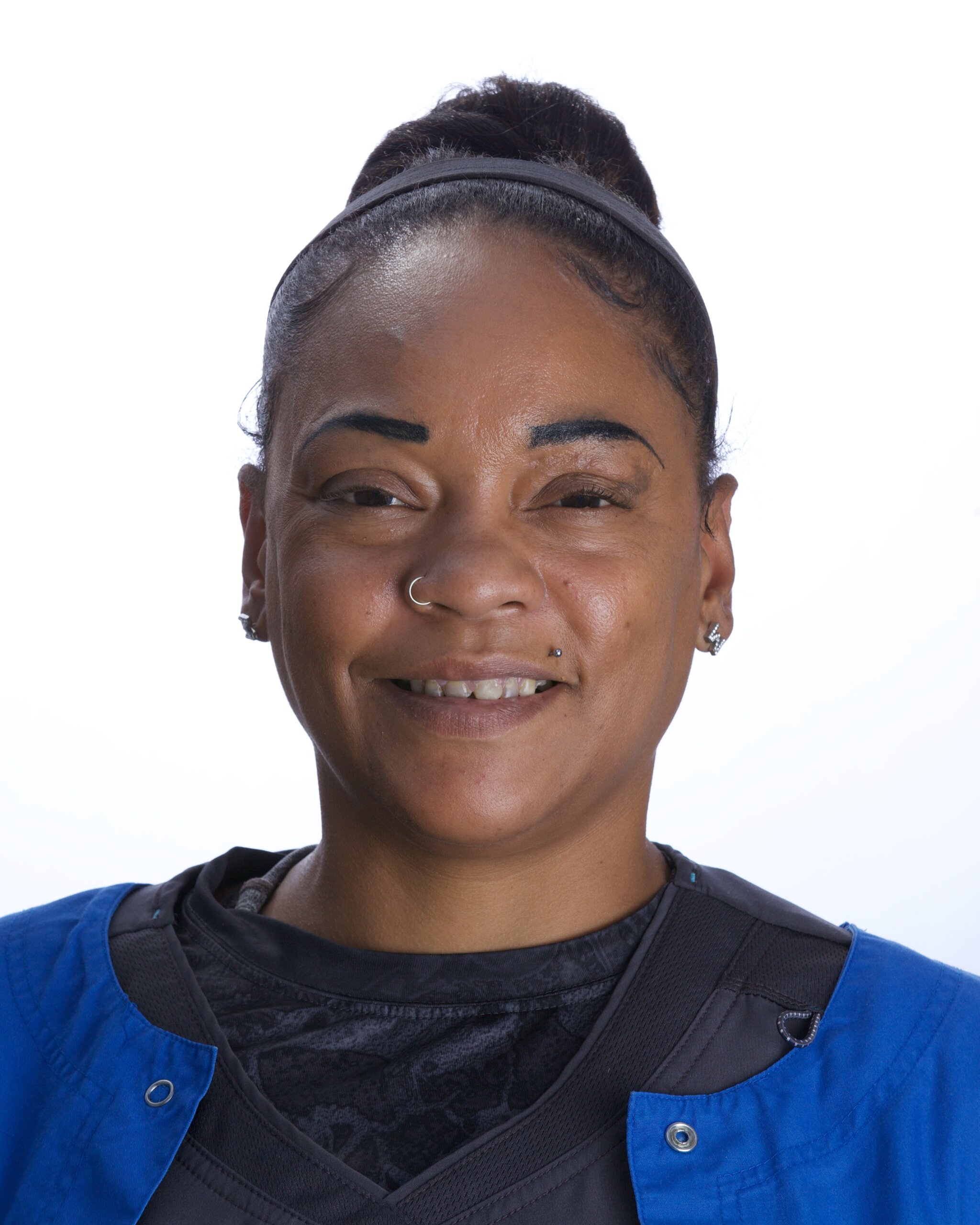 Monique Freeman
Monique joined the Countryside team with experience in the human medical field as an EMT. Monique aspires to expand her knowledge in the veterinary field. She attended Rogers High School in Newport, RI. She earned her bachelor's degree at Bethune-Cookman University. She enjoys spending time with her son Dominic and her pets. Her dogs include Luna Bell, Luna Strong, and John Gotti. Her cats include Billy Black, Johnny Blaze, and Felon. We support Monique and her dreams to learn all she can about this incredible field.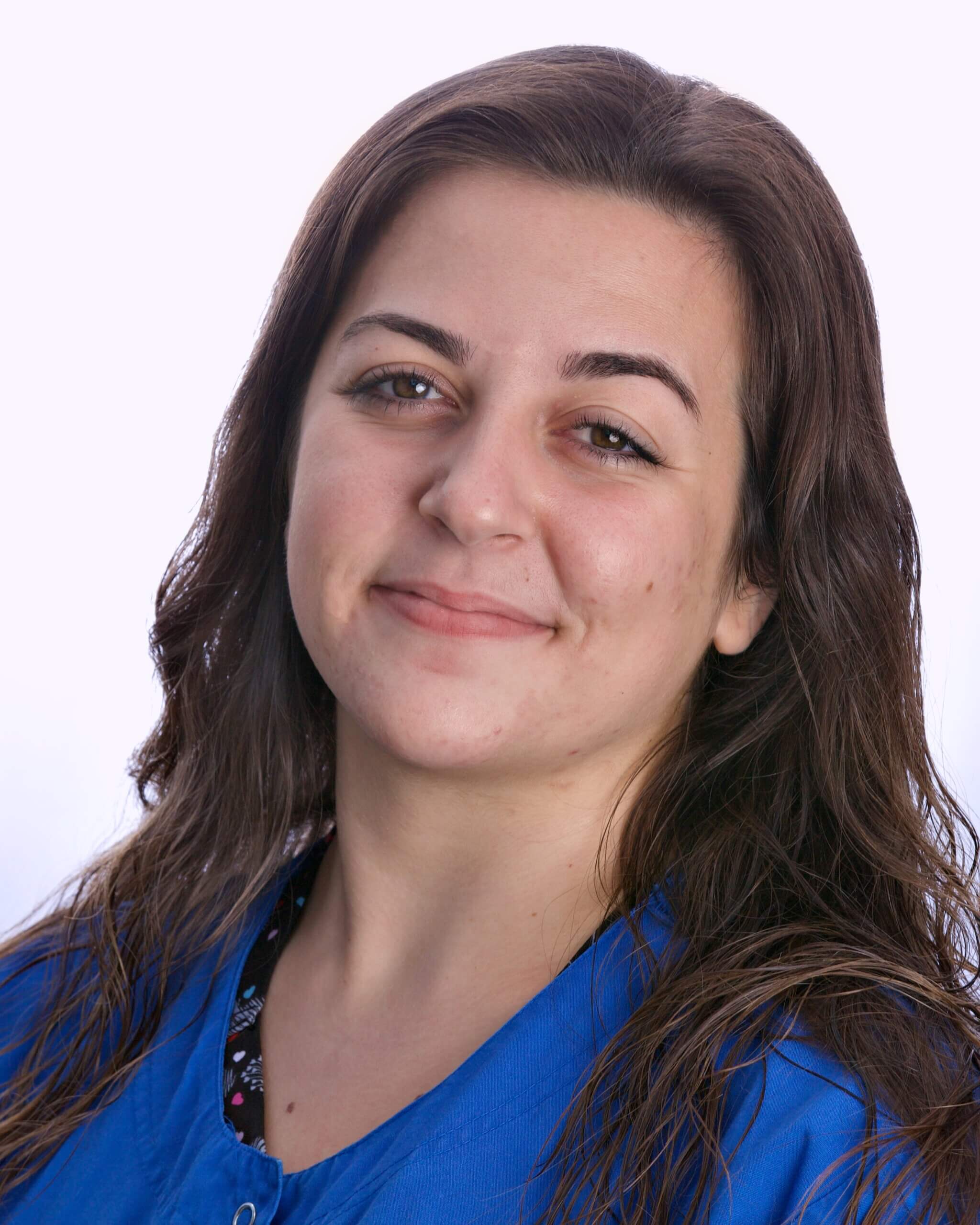 Brooklyn Mojica
Brooklyn grew up in Pinellas County FL. She went to Dixie Hollins High school and moved out at 17 into her first apartment. She then moved to Inverness at 18 to be closer to her grandparents to take care of them. She graduated from Withlacoochee Tech College. She worked at Citrus Memorial for five years before switching to the veterinary field which has always been her passion. Brooklyn has one dog named Malacai plus two cats (Amira and Merlin), and one fish named Jax. Jax is a spoiled Molly in a 30-gallon tank. She enjoys doing yoga, painting, drawing-anything creative, pottery, home improvement, and currently pursuing fire dancing. Her goals are to go back to school to further her career as a veterinary technician.

Nicole Strait
Nicole joined the CAC team in Summer of 2022. She is applying for colleges and hopes to pursue a career as a CVT or Veterinarian one day. She has a fish named Moon and when the time is right, she'd love to have more animals. She has three older brothers who are all married and four lovely nieces. Nicole loves being on the water. She enjoys kayaking, going to the beach, and especially being on the boat. She's always up for an adventure and hopes to explore Europe one day. She believes that life challenges you every day. The best thing to do is never stop pushing yourself and live out every dream you imagine.

Nicole Brake
Nicole joined the CAC family in 2022. She has long-term goals of becoming a veterinarian and is currently majoring in Animal Biology on the pre-vet track at the University of Florida. She lives with her mom, Patty and sister, Stephanie. They have two dogs—Allie and Oakley. She enjoys riding and working with horses, spending time with her family, and being out on the water. She enjoys doing 'eventing' as she is on the UF Events Team.

Dale Deangeli
Dale joined the Countryside family in 2022. She enjoys playing music, roller-skating, and playing video games with her boyfriend Jason. She doesn't currently have any pets of her own, but she loves spoiling her best friend's dog. His name is Dude, and he is a big newfoundland/Burmese mix. Dale graduated from Crystal River High School with the highest honors. Dale has always had a passion for animals and is glad to work so closely with them.
Groomer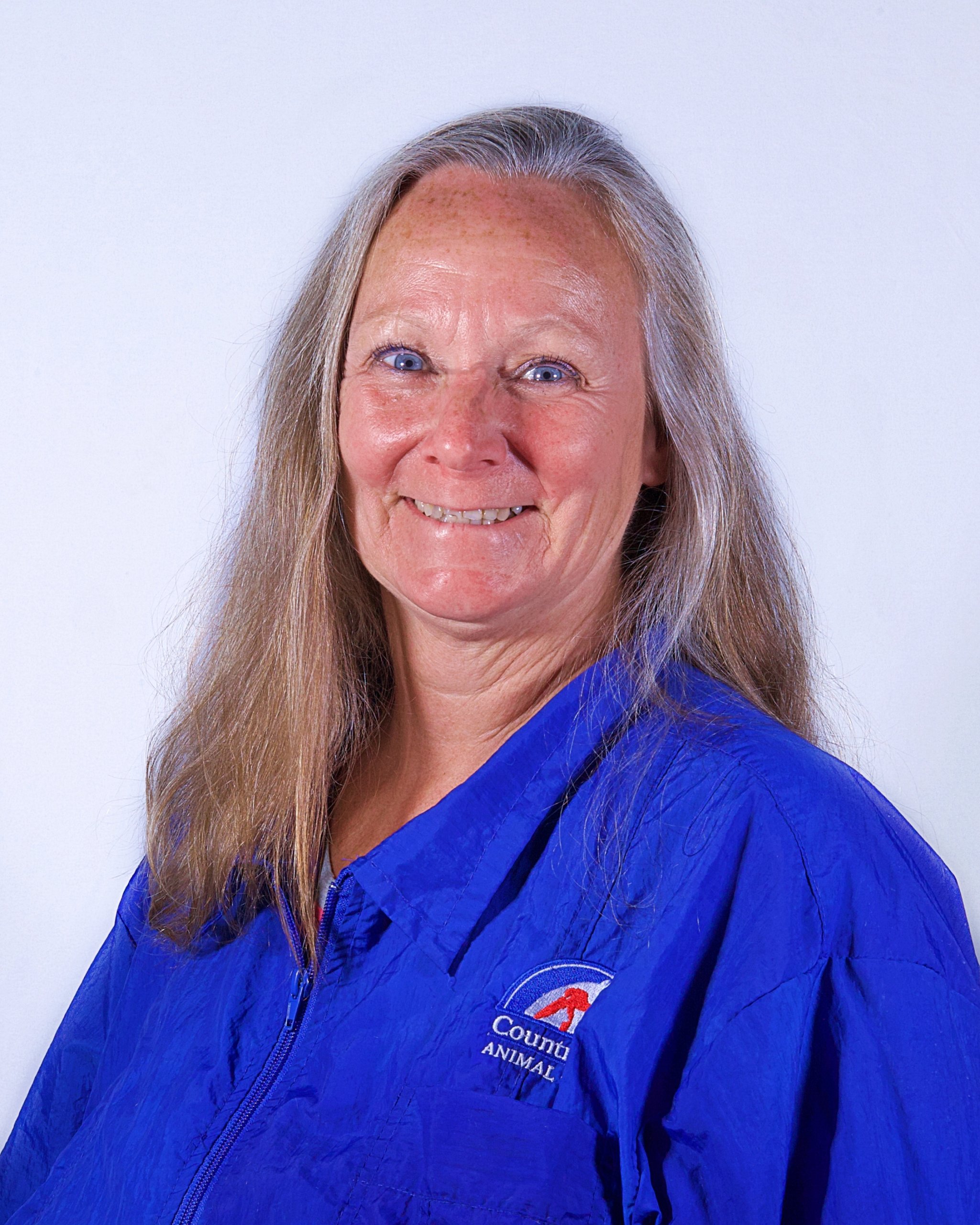 Kristine Bragen
Kristine joined the grooming department at Countryside Animal Clinic in December 2016. She loves her patients and clientele. She was born and raised in Maine. There, she attended Southern Maine Community College. After many years of living in the snow, she and her husband were ready to move to warmer weather. They decided to pack up and settle down in Citrus County, Florida. She enjoys spending time with her husband horseback riding, fishing, and cooking. It's always a treat when their three lovely daughters come down to visit from up North. They share the love caring for their three cats, three dogs, and four horses. Countryside is appreciative to have Kristine on the team, and they especially love her yummy homemade desserts she brings in. Kristine looks forward to the day the only decision she'll have to make is which horse to ride.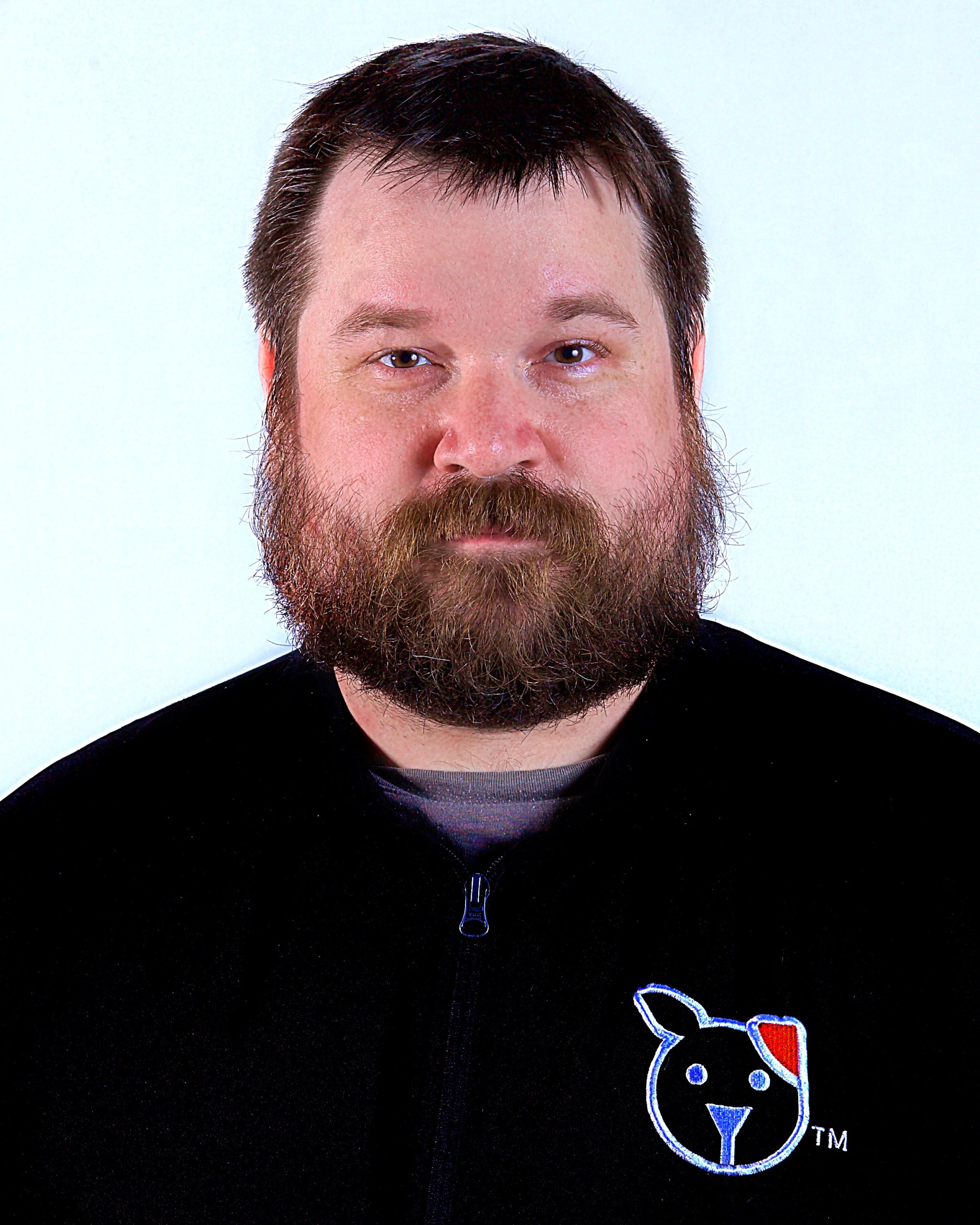 Kailen Price
Kailen was born in Gainesville, Florida. His immediate family lives in Ocala. At home, he cares for his senior dog named Basch and parrots. He loves photography, biking, hiking, grooming, and video games as hobbies. He shares a special interest in Asian Freestyle techniques and grooming competitions. Kailen received his Associates in Arts from the College of Central Florida. He is passionate about his grooming patients and continues to learn different fear-free skills to provide the ultimate experience. His future aspirations are to become a master groomer. Working at Countryside, Kailen is already making grooming strides. In addition to careful handling, he provides several different services such as nail painting, pet-friendly coat coloring, stencil work, and more. Kailen is excited to see how far he can go in the grooming industry.